The host of this podcast is affectionately referred to by students and colleagues as Dr. J. In this podcast, Dr. J interviews fascinating experts from various disciplines—politicians, artists, professionals from the field of medicine, law, business and more—as well as language educators and many amazing students from all over the world. The podcast includes episodes in English, French, Spanish, German, and Hungarian. Tune in and enjoy fun and thought-provoking discussions about culture, identity, and language, and how these affect all areas of work and life.
Episodes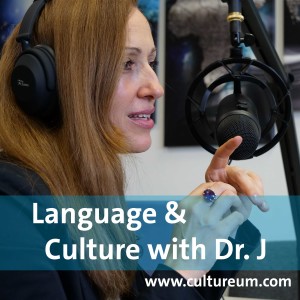 Tuesday Aug 30, 2022
Tuesday Aug 30, 2022
This episode kicks off Season 4 of the podcast and brings you the cultural reflections and stories of Carlos Palmitesta, a dear friend who grew up in Caracas, Venezuela in an Italian family, studied and worked in the US and England, and has now settled down in Madrid, Spain. Carlos and I talk about a Venezuela of the past that both he and I know and feel very nostalgic about. We discuss Venezuela's cultural standing within Latin America. We talk about some of the many cultural treasures Venezuela has to offer. And we reminisce about time spent in the company of a tight group of Latin Americans while we studied at the University of Kansas.
cultureum.com        @cultureumdrj         LinkedIn: Dr. Henriette J. Runte
Please don't forget to give the podcast a review or a rating; this really helps others discover us.