The host of this podcast is affectionately referred to by students and colleagues as Dr. J. In this podcast, Dr. J interviews fascinating experts from various disciplines—politicians, artists, professionals from the field of medicine, law, business and more—as well as language educators and many amazing students from all over the world. The podcast includes episodes in English, French, Spanish, German, and Hungarian. Tune in and enjoy fun and thought-provoking discussions about culture, identity, and language, and how these affect all areas of work and life.
Episodes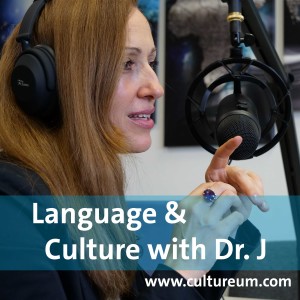 Monday Dec 12, 2022
Monday Dec 12, 2022
This episode with guest Jane Hermstedt plays a pivotal role in Season 4 of the podcast, dedicated to Latin America and more specifically to Argentina. A US-American who has traveled the world and has recently lived in Argentina for two years, Jane brings an interesting perspective to the conversations I am having this season. On the one hand, we reminisce about our time spent in college in the company of "Latinos," and on the other hand, we compare the first hand experiences we have had in Argentina and in other parts of Latin America. 
cultureum.com   @drjpodcast   LinkedIn: Henriette J. Runte
Please don't forget to leave a rating for the podcast. This really helps others discover us as well.