The host of this podcast is affectionately referred to by students and colleagues as Dr. J. In this podcast, Dr. J interviews fascinating experts from various disciplines—politicians, artists, professionals from the field of medicine, law, business and more—as well as language educators and many amazing students from all over the world. The podcast includes episodes in English, French, Spanish, German, and Hungarian. Tune in and enjoy fun and thought-provoking discussions about culture, identity, and language, and how these affect all areas of work and life.
Episodes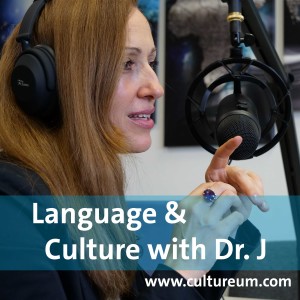 Sunday May 30, 2021
Sunday May 30, 2021
Anna De La Rosa has 161 thousand followers on Instagram alone, and over 5 million followers collectively on her social media channels, which definitely qualifies her as an influencer. From working in the medical profession, to creating her own insurance company, Anna has now grown to become a mindfulness teacher and women's advocate, motivating and inspiring women around the world.
cultureum.com    @drjpodcast    @quadylle    LinkedIn: Henriette J. Runte  
Please don't forget to leave a rating for the podcast. This really helps others discover us as well.