The host of this podcast is affectionately referred to by students and colleagues as Dr. J. In this podcast, Dr. J interviews fascinating experts from various disciplines—politicians, artists, professionals from the field of medicine, law, business and more—as well as language educators and many amazing students from all over the world. The podcast includes episodes in English, French, Spanish, German, and Hungarian. Tune in and enjoy fun and thought-provoking discussions about culture, identity, and language, and how these affect all areas of work and life.
Episodes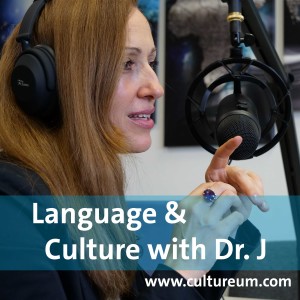 Monday Jan 09, 2023
Monday Jan 09, 2023
Haber podido conocer a Carol Jones y pasar tiempo con ella y sus caballos en su estancia fue uno de los aspectos más destacados de nuestro viaje de dos meses a Argentina el año pasado. En este episodio, Carol se une a mí a través de Internet. Hablamos sobre la historia de su familia: su viaje al corazón de Argentina, su trabajo con los caballos y su increíble conexión con leyendas como Davy Crockett, Buffalo Bill y Butch Cassidy y Sundance Kid. Aunque la casa de Carol está en la Patagonia, Argentina, justo al lado de Bariloche, en el Parque Nacional Nahuel Huapi, ha viajado mucho, habiendo vivido y trabajado, por ejemplo, en los EE. UU., Francia e Inglaterra. Carol es una de las personas más auténticas y fascinantes que conozco. Sus puntos de vista sobre los animales y la naturaleza son maravillosamente perspicaces. Su forma de vivir y trabajar es inspiradora.
culturaum.com @drjpodcast
caroljones.com.ar @caroljonesriding
Por favor, no olvide dejar una calificación para el podcast. Esto realmente ayuda a otros a descubrirnos también.