The host of this podcast is affectionately referred to by students and colleagues as Dr. J. In this podcast, Dr. J interviews fascinating experts from various disciplines—politicians, artists, professionals from the field of medicine, law, business and more—as well as language educators and many amazing students from all over the world. The podcast includes episodes in English, French, Spanish, German, and Hungarian. Tune in and enjoy fun and thought-provoking discussions about culture, identity, and language, and how these affect all areas of work and life.
Episodes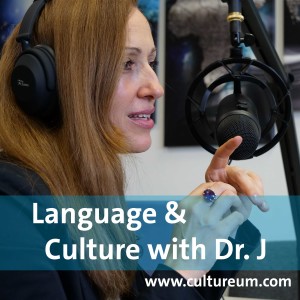 Sunday May 15, 2022
Sunday May 15, 2022
Why have humans placed such importance on the way they cover their bodies? Do clothes make the man? What is the difference between mere clothes and fashion? How has fashion developed throughout history? What are some of the milestones in fashion? What is the difference between clothes, fashion, haute couture, and costumes? – these are some of the questions discussed in this episode.  
My guest is Vincent Scassellati, resident costume designer for the Missouri Repertory Theater and head of the costume design program at UMKC between 1964 and 2000. Vincent has designed the costuming for more than 250 professional theater productions throughout the United States and continues to put his talent and knowledge to work at the Kansas City Costume Company.
cultureum.com  Instagram: @drjpodcast     kccostume.com  TicToc: kccostume
Please don't forget to leave a rating for the podcast. This really helps others discover us as well.