The host of this podcast is affectionately referred to by students and colleagues as Dr. J. In this podcast, Dr. J interviews fascinating experts from various disciplines—politicians, artists, professionals from the field of medicine, law, business and more—as well as language educators and many amazing students from all over the world. The podcast includes episodes in English, French, Spanish, German, and Hungarian. Tune in and enjoy fun and thought-provoking discussions about culture, identity, and language, and how these affect all areas of work and life.
Episodes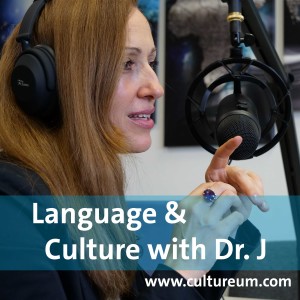 Thursday Jul 14, 2022
Thursday Jul 14, 2022
This episode gives you an overview of the US education system while also discussing various educational ideologies. The second part of the episode goes more specifically into education as it pertains to the environment and environmental conservation. My guest in this episode is Bridgett Chapin, a dear friend from college who holds a PhD in Ecology and Evolutionary Biology and is now a Professor of Environmental Science at Haskell Indian Nations University in Lawrence, Kansas.