The host of this podcast is affectionately referred to by students and colleagues as Dr. J. In this podcast, Dr. J interviews fascinating experts from various disciplines—politicians, artists, professionals from the field of medicine, law, business and more—as well as language educators and many amazing students from all over the world. The podcast includes episodes in English, French, Spanish, German, and Hungarian. Tune in and enjoy fun and thought-provoking discussions about culture, identity, and language, and how these affect all areas of work and life.
Episodes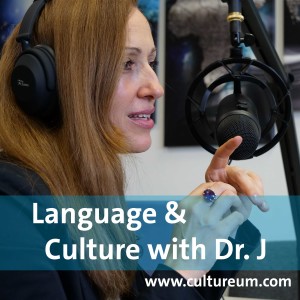 Monday Mar 06, 2023
Monday Mar 06, 2023
Este episodio les presenta a Bellatrix, uno de los proyectos de arte más emocionantes que conozco. Con Bellatrix, Betina Kühlcke se propuso inmortalizar la fauna y la flora del antiguo campo de su padre y traducirlas en arte. Imaginó un museo por dentro y por fuera que enseñaría e inspiraría. Bellatrix es un homenaje a la naturaleza, la historia y el abolengo de la región. A través de las estatuas, pinturas y creaciones por encargo que se exhiben, también es un gran aporte a la escena del arte contemporáneo en Argentina. Bellatrix, una experiencia artística verdaderamente única y el tema del episodio del podcast de esta semana.
cultureum.com    @cultureumdrj     https://bellatrixart.com.ar      @bellatrixart._
***
This episode presents to you Bellatrix, one of the most exciting art projects I have ever come into contact with. The owner of Bellatrix, Betina Kühlcke, set out to immortalize the fauna and the flora of her father's old farm and to translate it into art. She envisioned an inside and outside museum that would teach and inspire. Bellatrix is a tribute to nature, and to the history and ancestry of the region. Through the commissioned statues, paintings and creations that are displayed, it is also a great contribution to the contemporary art scene in Argentina. Bellatrix, a truly unique art experience, and the subject of this week's podcast episode.
cultureum.com    @cultureumdrj     https://bellatrixart.com.ar      @bellatrixart._