The host of this podcast is affectionately referred to by students and colleagues as Dr. J. In this podcast, Dr. J interviews fascinating experts from various disciplines—politicians, artists, professionals from the field of medicine, law, business and more—as well as language educators and many amazing students from all over the world. The podcast includes episodes in English, French, Spanish, German, and Hungarian. Tune in and enjoy fun and thought-provoking discussions about culture, identity, and language, and how these affect all areas of work and life.
Episodes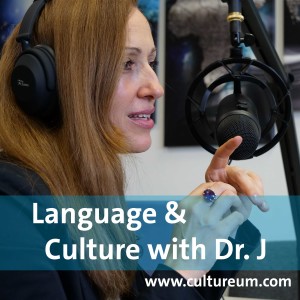 Tuesday Mar 15, 2022
Tuesday Mar 15, 2022
What do we eat and why? How do we nourish our families and our communities? How can cultural integration occur through the sharing of food? What is the actual value of our food – the fruits and vegetables we consume, the dairy products we use, the animals we eat… Jennifer Doty from the Lenexa Farmers Market joins me to answer these questions and more.
cultureum.com    @drjpodcast    @quadylle    LinkedIn: Henriette J. Runte  
Please don't forget to leave a rating for the podcast. This really helps others discover us as well.