The host of this podcast is affectionately referred to by students and colleagues as Dr. J. In this podcast, Dr. J interviews fascinating experts from various disciplines—politicians, artists, professionals from the field of medicine, law, business and more—as well as language educators and many amazing students from all over the world. The podcast includes episodes in English, French, Spanish, German, and Hungarian. Tune in and enjoy fun and thought-provoking discussions about culture, identity, and language, and how these affect all areas of work and life.
Episodes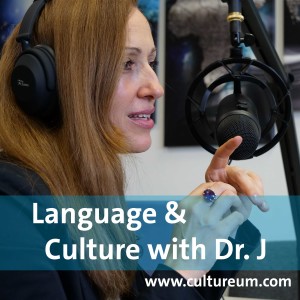 Tuesday Jun 14, 2022
Tuesday Jun 14, 2022
This episode is basically a lesson in jazz, in dialogue with an amazing musician, Clint Ashlock, the artistic director of the Kansas City Jazz Orchestra. Clint is also a trumpeter and a composer and has been featured as a solo artist all over the world. The episode discusses the origins of jazz, how it compares to swing or the blues, goes into New Orleans Jazz vs. Kansas City Jazz, and delves into some of the socio-cultural aspects of jazz. Clint Ashlock exudes music even when he's speaking. His verbal imitation of different beats and styles is incredibly informative and entertaining. And, you will find musical treats from the Kansas City Jazz Orchestra both within this podcast episode and on our website cultureum.com.
@cultureumdrj         LinkedIn: Dr. Henriette J. Runte
kcjo.org                     clintashlock.com
Please don't forget to leave a rating for the podcast. This really helps others discover us as well.