The host of this podcast is affectionately referred to by students and colleagues as Dr. J. In this podcast, Dr. J interviews fascinating experts from various disciplines—politicians, artists, professionals from the field of medicine, law, business and more—as well as language educators and many amazing students from all over the world. The podcast includes episodes in English, French, Spanish, German, and Hungarian. Tune in and enjoy fun and thought-provoking discussions about culture, identity, and language, and how these affect all areas of work and life.
Episodes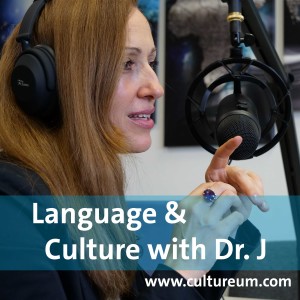 Monday Aug 02, 2021
Monday Aug 02, 2021
Vendégem ebben az epizódban Habala Péter, ötszörös román nemzeti bajnok a vívásban, és az amerikai chicagói Red Star Fencing Club alapítója. Péter a vívóteremben nőtt fel; édesanyja és édesapja mindketten vívóbajnokok és elismert edzők. Péter édesapja az én vívóedzőm is volt Romániában. Nagyszerűen elbeszélgettünk a vívásról, arról, hogy mi kell ahhoz, hogy bajnokká váljon valaki, valamint a Péter személyes élettörténetéről és vívó karrierjéről.
cultureum.com    @drjpodcast    @quadylle    LinkedIn: Henriette J. Runte  
Please don't forget to leave a rating for the podcast. This really helps others discover us as well.