The host of this podcast is affectionately referred to by students and colleagues as Dr. J. In this podcast, Dr. J interviews fascinating experts from various disciplines—politicians, artists, professionals from the field of medicine, law, business and more—as well as language educators and many amazing students from all over the world. The podcast includes episodes in English, French, Spanish, German, and Hungarian. Tune in and enjoy fun and thought-provoking discussions about culture, identity, and language, and how these affect all areas of work and life.
Episodes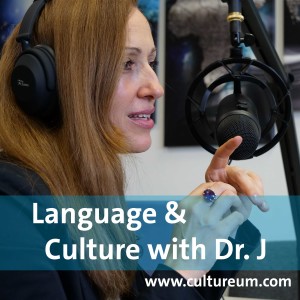 Tuesday Nov 15, 2022
Tuesday Nov 15, 2022
¿Cómo se comparan las mujeres argentinas con otras mujeres latinoamericanas o con las mujeres europeas o americanas? ¿Cómo ha cambiado la identidad de la mujer argentina desde la generación de nuestras abuelas? ¿Cómo se compara el nivel de educación de las mujeres argentinas con el de los hombres? ¿Cómo se tratan los temas de la sexualidad en Argentina? ¿Qué es lo más importante para la mujer argentina?
En este episodio, Cecilia Pérez Giménez de Córdoba, Argentina, responde todas mis preguntas y nos enseña mucho sobre las mujeres de su propia familia y sus puntos de vista sobre las mujeres en Argentina en general.
cultureum.com, @drjpodcast, @americo_vidaintegral
Por favor, no olvide dejar una calificación para el podcast. Esto realmente ayuda a otros a descubrirnos también.