The host of this podcast is affectionately referred to by students and colleagues as Dr. J. In this podcast, Dr. J interviews fascinating experts from various disciplines—politicians, artists, professionals from the field of medicine, law, business and more—as well as language educators and many amazing students from all over the world. The podcast includes episodes in English, French, Spanish, German, and Hungarian. Tune in and enjoy fun and thought-provoking discussions about culture, identity, and language, and how these affect all areas of work and life.
Episodes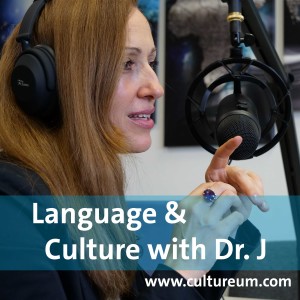 Monday Oct 11, 2021
Monday Oct 11, 2021
My guest in this episode is István Steve Javorek, my father, who was the National Olympic Weightlifting Coach to Romania and later to South Korea, before becoming a renowned strength and conditioning coach in the United States. He speaks to me very candidly about his life and about his exciting career coaching Olympians and incredible performance athletes around the world.    
cultureum.com    
LinkedIn: Dr. Henriette J. Runte
Instagram @cultureumdrj  
Please don't forget to leave a rating for the podcast. This really helps others discover us as well.