The host of this podcast is affectionately referred to by students and colleagues as Dr. J. In this podcast, Dr. J interviews fascinating experts from various disciplines—politicians, artists, professionals from the field of medicine, law, business and more—as well as language educators and many amazing students from all over the world. The podcast includes episodes in English, French, Spanish, German, and Hungarian. Tune in and enjoy fun and thought-provoking discussions about culture, identity, and language, and how these affect all areas of work and life.
Episodes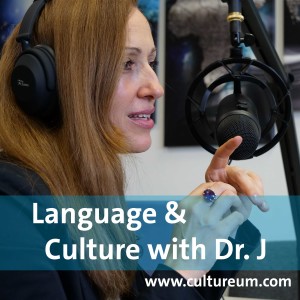 Saturday Jan 15, 2022
Saturday Jan 15, 2022
January 15th 2022 marks the great playwright Molière's 400th Birthday as well as the day I turned 50. This episode aires the lecture I held this past November at the Kansas City Museum. The lecture is entitled "Molière and me" and aims to draw parallels between the playwright and myself, and to entertain while informing the audience about Molière's life and theater.
The lecture is also available on youtube: https://www.youtube.com/watch?v=wlPKh017878
cultureum.com        @cultureumdrj         LinkedIn: Dr. Henriette J. Runte